Albert-Somme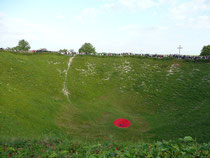 During your tour you will discover the Somme battlefields of July 1916. Starting from Albert - town entirely reconstructed - you will see a big mine hole, the remainings of a windmill and a German Blockhaus, former trenches and the biggest memorial for the First World War.
3 or 4 h 
Albert, La Boisselle, Pozières, Beaumont-Hamel, Thiepval
Work on Thiepval Memorial May 2020-December 2021. Access to Memorial is impossible!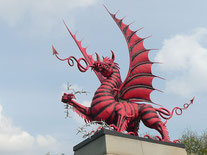 You should spend your extra-time to include an unknown mine-hole, the grave of war poet Harry Fellows, a surviving tree and a red dragon. At the end of the tour meet a famous German pilot of the Great War.
4 h 
Beaumont, Contalmaison, Longueval, Mametz, Fricourt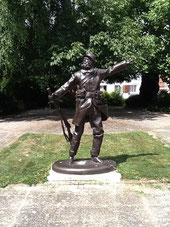 The town of Albert has placed 9 statues in the centre to represent the different nationalities that fought in the Somme. Each soldier has another story and a cemtery closeby. Discover 9 lifes in 90 minutes and visit their graves in 6 hours.

90 minutes or 8 h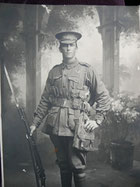 You can also follow the footsteps of your ancester, please send me over the information you hold and I create your personal itinerary in the Somme area and include the memorials on our way.

4 h +

If you need a driver, José Bon will take us around. Please contact me for a quote.
In the area around Albert I offer also 1 or 2 hour tours!
If you are looking for a restaurant:
Taverne du Cochon Salé
29, rue d'Albert
80300 Authuille
or
Auberge de la Vallée d'Ancre
6, rue du moulin
80300 Authuille

If you are looking for a tea room choose the Old Blighty in La Boisselle