Ieper Salient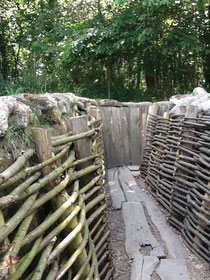 If you wish to discover the Western front during several days, it is possible discover some sites in Belgium. We start the tour in Lille at the railway station, visit trenches, mine craters, memorials and cemeteries. The evening highlight will be the Last Post ceremony, than overnight stay in the town centre of Ieper, before we continue the visit in France the next day.

9 h 
Lille, Messines, Kemmel, Passendaele, Ieper
Only in combination with 2 day-tour
If you would like to include a museum in or around Ieper, you have to count 2 extra hours.

2 h 
Ieper


If you are looking for an accomodation:
Hortensia B&B
Michaël & Véronique

Rijselsestraat 196
8900 Ieper
Belgium
www.bbhortensia.be
A 2 minute walk from Ramparts Military Cemetery and 10 minutes walk from Menin Gate