Walk - trenches and no man's land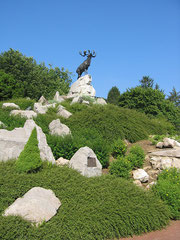 Starting in the Newfoundland Parc you discover the two major battles of this area - the 1st July and 13th November 1916 - and their still visible remainings like trenches, shell holes and the big mine crater at Hawthorn Ridge. You cross the reconstructed village of Beaumont, you will understand more about the German fortifications and the positions that gave them the possibility to stop the British advance during the battle of the Somme.
The tracks we take during the walk can be muddy, so please take some extra shoes with you.

Beaumont-Hamel (meeting point at the parking of the Newfoundland Parc between Auchonvillers and Hamel)

3-4 hours